ORGANIC FARMING is one of today's biggest trends in the worldwide farming sector. Why? Because people, whether you're a baby boomer or a millennial, are shifting more towards healthier lifestyle choices as a preventive measure.
It's no wonder that many farms here and abroad are changing their ways to meet this growing demand of providing organically-produced food and food products to an increasingly discerning crowd.
Organic farming in the Philippines
What's great is that the Philippine Congress supported this trend as early as 8 years ago by virtue of a law called the Organic Agriculture Act of 2010 (or Republic Act No. 10068). It's mandate is to "promote, propagate, develop further, and implement the practice of organic agriculture in the Philippines."
According to the act, organic farming is beneficial because "it cumulatively conditions and enriches the fertility of the soil, increases farm productivity, reduces pollution and destruction of the environment, prevents depletion of natural resources, saves on imported farm inputs, and protects the health of farmers, consumers, and the general public."
What we believe in
We support the government in its endeavor to support local organic farmers. When we began commercializing our operations at BA Farms, organic farming was our main thrust because we honestly believe that it is the future.
While we do not claim to be experts of some sort when it comes to farming (or organic farming per se), here are some key benefits we can explore to encourage other farms to go organic:
1. No GMOs
Unfortunately, the use of Genetically modified organisms (GMOs) is still a widespread practice in the international farming community  as a means to increase yield and get rid of common crop and livestock problems such as pests, diseases and weather effects. It's alarming because GMOs have largely unknown effects towards end-users' (consumers') health or risks of contaminating the living beings. We can assure our customers that BA Farms does not use GMOs on its products.
2. No food additives
If you've seen the 2008 documentary Food, Inc., chances are, it made you choose organic products. In part, it shows some the practice of using food additives such as preservatives, flavorings, colorings and other artificial chemicals to make fruits, vegetables and meat look attractive or fresh on market shelves.
Although its main purpose is to prolong the shelf life of food products, the long-term effects of regular chemical consumption by humans brought by food additives are unknown. The World Health Organization is proactively checking for potential harmful effects, they highly discourage the use of artificial substances in food products.
BA Farms strictly utilizes organic methods to keep its products fresh so our customers need not worry about the negative effects of food additives on their health.
3. No chemical pesticides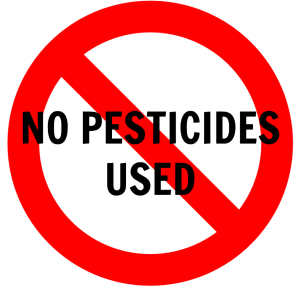 We understand that insects and bacteria need to be eliminated to have good-looking produce. But using chemical pesticides on crops and vegetables leave toxic residue that end up inside our bodies upon consumption.
Chemical pesticides are generally harmful to both humans and animals that's why organic farms employ natural methods of pest control to ensure that harmful chemicals do not enter our bodies.
Read more on the harmful effects of pesticides here.
4. Healthier animals = healthier meat
Our livestock only consumes certified organic feeds or grass and is free to roam around their areas in the farm. We make sure that our animals eat healthy and live in non-restrictive conditions. We also have dedicated staff that take care of these animals by ensuring they have enough exercise and are given a good diet to maintain their good health.
Here at BA Farms, we can proudly claim that we also consume the same food we sell to our consumers.
5. Good for the farmers
Avoiding the use of chemicals does not only bode well for the products, but also for our farmers that we put great value and pride in. Taking them away from the hazards of prolonged exposure to chemicals is another step we make to provide better working conditions for our people.
BA Farms believes that its people is the biggest secret to producing only the best quality of products for our customers.
6. Organic farming is environment-friendly
One of the biggest dangers of non-organic farming is its effects on the environment. The chemicals contaminate our water sources, surroundings and the soil. The use of machinery contributes to the detriment of our air due to CO2 emissions.
Other than reasons of churning out the best organic products for our customers, we also utilize sustainable methods to do our part in preserving the natural beauty of our environment. Because we believe that by doing so, we also protect our wildlife, their habitats, maintain soil fertility and promote biodiversity.
While we are still at the stage of polishing our farming operations, we believe that our organic farming ethos is a modest step we make in the cultivation and promotion of the bustling Philippine farming industry.
We encourage you to read more on the Department of Agriculture's National Organic Agriculture Program here.